 
BRP Power Interface
BRP Power Interface harness
BRP Power Interface unit
BRP strongly recommends the use of the power interface and power supply cables to stabilize the unit voltage when using BUDS & BUDS2 during software updates. 

The power interface and power supply cable allows the connection of a fully charged external battery to provide stable voltage to the unit and BUDS / BUDS2. Stable voltage is essential to prevent update crashes  

The power interface and power supply cable connected to external battery can be used for extended diagnostic time

The power interface with or without the power supply cable will keep the unit powered even if the ignition switch is turned off or the DESS key is removed

The power interface has a fuse protected voltmeter included and an extra fuse to protect from polarity inversion of the power supply cable

It's neccasery for BRP vehicles without battery (electric starter)
No customer reviews for the moment.
Only users who already bought the product can add review.
2 other products in the same category:
DESSPOST 4-TEC is designed to edit / remove & add DESS keys on 4-TEC/E-Tec vehicles (SkiDoo, SeaDoo)
(3)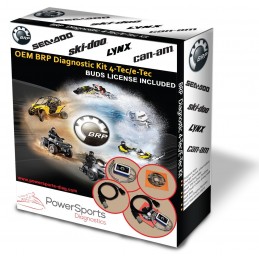 Price
€599.99
Regular price
€789.99
For diagnosis of all BRP 4-TEC / E-TEC vehicles:   - PWC and Sport Boats SeaDoo.  - Snowmobiles Skidoo and Lynx.  - all Can Am...
(70)